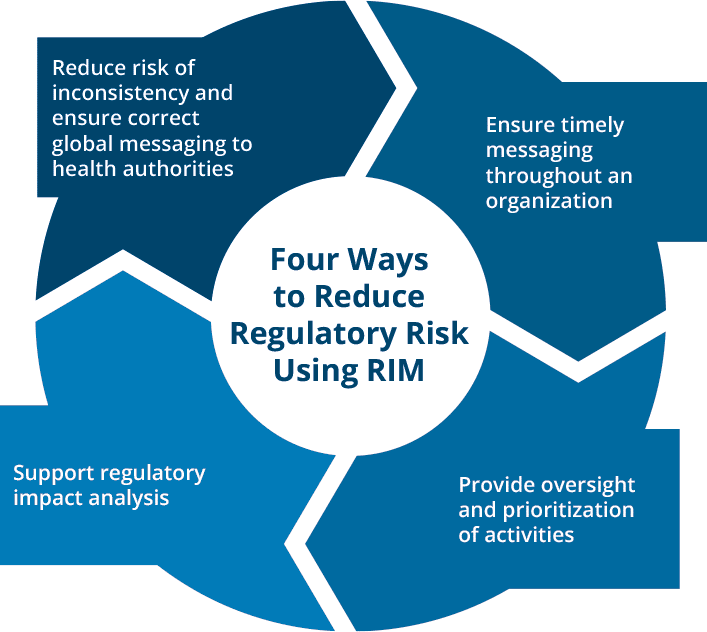 If you asked a regulatory colleague about the purpose of a Regulatory Information Management (RIM) system, they might say to provide replacement for spreadsheets, consolidate regulatory information in one place, or to enable tracking and management of approvals.  They might even mention compliance.  I would wager that few would see a RIM system as reducing regulatory risk, but this would be a missed opportunity.
To explore this point further, I will define RIM as a tool and process that manages product dossiers including regulatory product information, aids in the preparation of product submissions in regulated formats, and manages the submission of information in approved formats to regulatory agencies.
Any change in laws and regulations that could potentially cause losses to your business, sector or market introduces regulatory risk. The most obvious impact would be fines or penalties related to non-compliance. However, regulatory changes can impact the costs of running the business in additional ways. In addition to the basic costs to achieve compliance, an organization may introduce avoidable cost due to inappropriate interpretation of requirements, or inefficiency in reaching a compliant state. This article will focus these less obvious aspect of risk.
Reduce risk of inconsistency and ensure correct global messaging to health authorities
Managing a global portfolio is a complicated business. Complexity increases with the age of the product and the disparate details of the registrations across many markets.
A well-constructed RIM solution should, at a minimum, allow you to understand global filing status for a product and enable you to batch change activities across all or some of your filing territories. An advanced system provides dashboards to visualize the progression of critical submissions as well as filing strategies, potential delays and other critical intelligence based on affiliate and partner input. Like a General on a hill watching a battle unfold below, you will be able to see the progression of multiple global changes. Understanding when changes affect multiple products, products in development or those partially through approval will support change clustering and prioritization. This will decrease the risk of change that is not propagated correctly throughout the registration portfolio.
We often assume that the company position and filing strategy for a particular product or product group will not change over time. This is obviously not always the case, and more than often the initial company position is influenced by a lead country or countries' Health Authority. An integrated RIM system should not only provide you with clear regulatory status, but also the regulatory submissions, data and core documents to allow easy amendment or authoring for countries where a product is registered later. This information is essential to providing a consolidated set of information for each additional country, taking into account the initial submission and subsequent updates, and omitting information not relevant to submission in each country.
Ensure timely messaging throughout an organization
Timely messaging throughout an organization increases efficiency, but timeliness of accurately targeted messages can also assist in risk mitigation. When high profile submissions are approved, key members of the organization need to be informed. This process should be automated and achieved through two mechanisms:
Targeted notifications to interested parties, so that they are immediately aware of important changes
Dashboards that allow users to retrieve real-time information to support decision-making
Integration with other systems is also becoming more commonplace. Systems that may be impacted by regulatory changes can include Artwork and Labelling, Quality Management (QMS), Pharmacovigilance (PV) and Public Health, Enterprise Resource Planning (ERP), Product Lifecycle Management (PLM) and Product Supply Release, to name a few.
Ultimately successful interactions between systems result from clear messaging and accurate context. Chiefly, are you answering the same question in the recipient system? "Is a product supplied in a country?" is obviously a different question to "is a product licensed?", but can have the same answer. This is a trivial example, but illustrates the need when designing these end-to-end processes for clear integration goals, a well-designed system which is light and agile, and of course a platform and experienced vendor amendable to such integrations.
Labelling management and product release are good examples of where risk reduction can be achieved when a RIM system "notifies" a recipient system. This notification is, of course, only part of the information required for artwork or product release. Even though a multiple part verification for these actions is required, the RIM system can automatically start this cascade of activity, if well-structured and fully integrated.
Provide oversight and prioritization of activities
Oversight of activities is key to the effective management of any process. When supported by well-chosen key performance and quality indicators, it's a powerful tool. An example of where this can be extremely advantageous is the all too common strategy of outsourcing. A well-defined and maintained process conducted mostly or entirely within your RIM system to monitor an outsourced activity can remove a huge amount of administrative burden from both vendor and client. The key is a well-defined and maintained process. Again targeted dashboards and intuitive user interfaces pay dividends on top of the process.
A more common risk mitigation is in the use of dashboards to enable regulatory managers to plan workload and ensure all projects are assigned and progressing as expected. The publishing plan is a familiar example. The goal of this plan is to share submission dates with publishing and provide regulatory publishing managers with enough information to prioritize workload. A real-time dashboard is a critical advantage for the publishing plan, as is a regulatory activity dashboard to ensure all regulatory projects are prioritized, assigned and ultimately completed.
As our working life has become more geographically separated and our roles more diverse it is clear that those companies which have a strong IT infrastructure, and clear and simple processes will prevail.
Support regulatory impact analysis
Recently, a client I worked with analyzed non-compliance related to manufacturing change controls. They concluded that almost 40% of the manufacturing changes which were currently being actioned either were not attainable within the desired time frame or were not economically viable. The analysis was centered on a full impact assessment which included contributions from regulatory affairs. Clearly, this 40% represents risk that was not apparent to the organization until changes were already underway.
A good RIM system should provide an easy and accurate impact assessment of a manufacturing or any other change. This is not only to plan and budget regulatory activities, but also to inform on end-to-end viability. The RIM system should provide information on previous experience, and also facilitate the rapid collection of information from impacted parties such as affiliates and partners. Clear goals and a well thought through regulatory information strategy is key, facilitated by clear and useful dashboards and automatically triggered routines.
In summary, RIM systems are moving from basic regulatory tools intended to overcome certain licensing challenges to integrated, business-critical assets. This bold claim has been made before, but now a small number of vendors are now providing solutions that address real, complex business problems. And lest we forget, the bonus of a RIM system is of course regulatory compliance!
Click here to learn more about how Ennov's Regulatory Information Management systems can help you improve efficiency and compliance and reduce risk. Or request a demo.