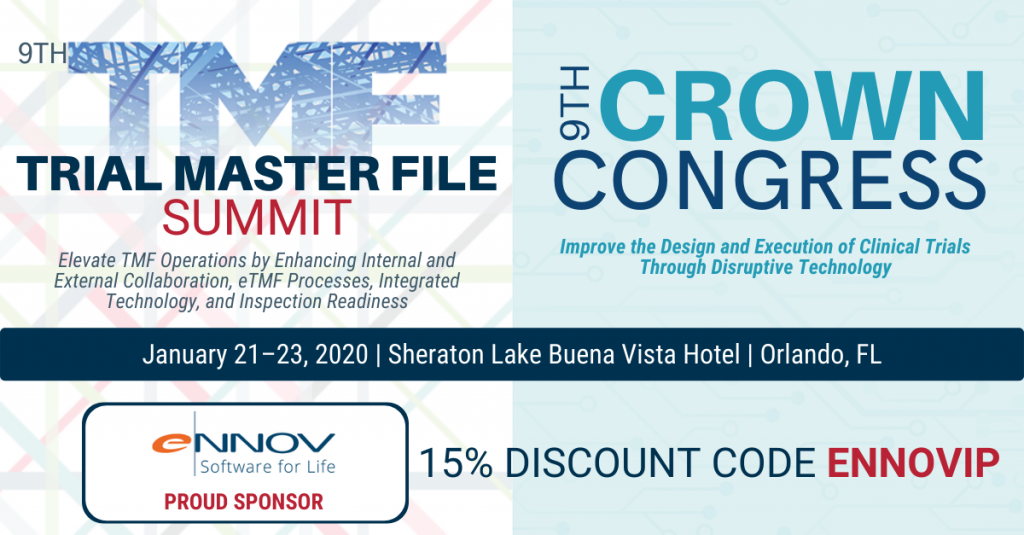 Ennov is pleased to announce that we are sponsoring the 9th Trial Master File Summit and CROWN Congress being held at the Sheraton Lake Buena Vista Hotel in Orlando, FL on January 21-23, 2020.
Both conferences focus on improving clinical operations through the use of technology and optimized processes. The combined events feature over 80 speakers from more than 50 companies and represent an elite group of innovators committed to improving performance and compliance in clinical trials.
On Thursday, January 23 at 9:45 am, Ennov's Kathie Clark, Product Director, CTMS will be delivering a presentation entitled "Unified Clinical Operations: What Does it Really Mean?".
Be sure to stop by booth #10 to receive a reprint of the Ennov whitepaper "Unified CTMS and eTMF", and learn how true unification goes beyond just sharing of documents to ensure a single source of truth, automate processes, decrease risk and improve awareness of status and compliance.