June 26-30, 2016 – Philadelphia, PA
DIA 2016 Conference | Booth 1255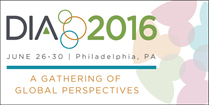 Ennov is pleased to be an exhibitor again at the DIA 2016 Conference. Come to our booth to learn how our newly released RIM solution integrates seamlessly the management of regulatory documents, submissions, product registrations and processes.
The DIA is the largest global interdisciplinary gathering of professionals in the life science industry. The conference will be held in Philadelphia, PA on June 26 – 30 of this year with over 7,000 expected attendees; It is a great opportunity to meet thought leaders, and professionals and experts in the industry from around the world.
With over 15 years' experience and 150+ life science clients worldwide, Ennov makes the most integrated, cost-effective and user-friendly compliance software for Life Sciences. Our 4 solutions: Quality, Regulatory, Clinical and Pharmacovigilance software integrate with your workflow to help you reach your compliance and productivity goals faster, with no IT skills required.