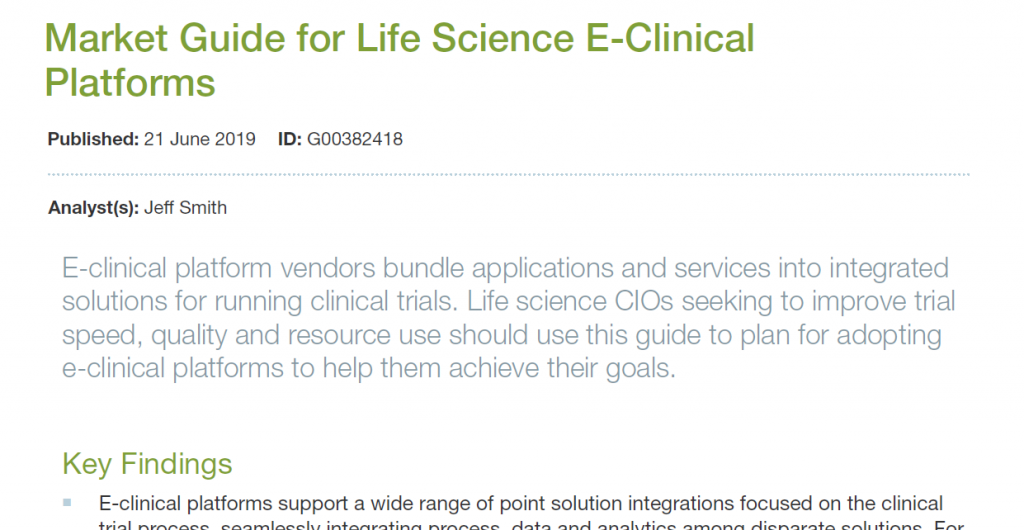 Ennov announces its inclusion in the 2019 "Market Guide for Life Science E-Clinical Platforms", published by Gartner, Inc., the leading information technology research and advisory company.
According to Gartner,
For life science (LS) CIOs, e-clinical platforms offer a tantalizing alternative to the complexity of bolting together multiple clinical solutions in-house. […] The e-clinical platform provides an opportunity for IT leaders to rethink legacy solution boundaries, and look for new ways to optimize and speed trial processes. 1
According to Ennov CEO Olivier Pâris,
"Ennov is honored to be named by Gartner as a Representative Vendor in the Market Guide for Life Science E-Clinical Platforms. We have been providing our innovative Clinical software to our clients for many years now and it is very rewarding to be recognized by such a well-respected source for our contributions to the industry."
Ennov's E-Clinical platform is built on its unified compliance platform which, in addition to Clinical Trial Management, also provides solutions for regulatory affairs, quality, and pharmacovigilance.
Ennov's Clinical functionality includes support for Clinical Data Management (EDC, EDC Mobile, RTSM, ePRO), Clinical Trial Management (eTMF, CTMS) and Clinical e-Learning. Ennov's E-Clinical platform provides sponsors, CROs, investigators, and patients with an end-to-end solution for clinical trial information capture and management.
Ennov's Clinical software is currently being used by over 50 Life Science companies worldwide.
1
Gartner, "Market Guide for Life Science E-Clinical Platforms,"
Analyst: Jeff Smith
Published: 21 June 2019
About Ennov
Headquartered in Paris, with offices in San Jose, CA and Cambridge, UK, Ennov provides the most cost-effective, comprehensive and user-friendly solutions for regulated content and process management for the Life Sciences industry. We provide a Quality, Regulatory, Pharmacovigilance and E-Clinical platform. Our suite of software solutions is built on our unified compliance platform and is being used by over 150 Life Sciences companies and more than 250,000 users worldwide.